Here at West Mercia, we are so pleased to be working with Janitorial Direct. They have been a customer with us for 8 years and we recently supplied them with a their second fully refurbished Bendi.
As owner of Janitorial Direct, Julian Gaze puts it:
'Our fork truck is a vital piece of equipment and is critical in ensuring our warehouse operates efficiently and orders are picked accurately.

West Mercia Fork Trucks offer top class servicing giving us peace of mind that our truck will receive the best care so we can continue to offer our customers our very best service.'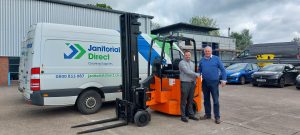 Joint Managing Director of West Mercia, David Pugh, was there to hand over the forklift and ensure that everyone can hit the ground running when it comes to using it.
'It is always a pleasure working with Julian and the Janitorial Direct Team, and delighted to work with them with the new addition to the forklift fleet, a fantastic company to deal with.'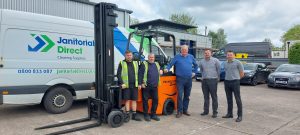 Janitorial Direct specialise in providing comprehensive cleaning and janitorial solutions to various commercial establishments. With a commitment to excellence and customer satisfaction, Janitorial Direct offers a wide range of high-quality products and services tailored to meet the specific needs of businesses across different industries.
Janitorial Direct takes pride in their knowledgeable and experienced team, comprised of experts in the field of cleaning and janitorial services. They understand the unique challenges faced by businesses when it comes to maintaining a clean and hygienic environment.
Here's to the next 8 years!
To find out how we can help you to find the right forklift for you and your company get in touch with our friendly team today.