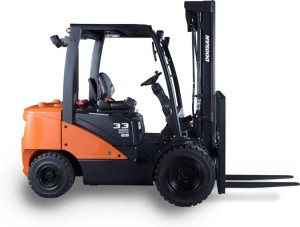 If you require forklift sales and hire in Stafford that you can always rely on, contact West Mercia Fork Truck today. With a broad selection of forklifts available for sale and hire, from a range of manufacturers, we're guaranteed to have the perfect forklift for your needs and budget. With accessible pricing and flexible payment plans, we're the premier choice whenever you need a forklift anywhere in Stafford.
How we provide premier forklift sales and hire in Stafford
We provide our customers with a level of customer service they simply can't find elsewhere. Whether you need to hire a forklift for one day, or on an ongoing basis, or you're looking to make an investment into a forklift of your own, our friendly, professional, and highly experienced team is available to help.
Forklift sales
We carry a broad selection of forklifts from all manufacturers – and we're currently the longest operating Doosan dealer in the UK. We offer a wide range of both new and used forklifts, all of which are prepared to rigorous standards to ensure complete reliability.
Forklift hire
Forklift hire is the ideal solution if you only need a forklift now and then, or you don't want to make the investment in purchasing one. We can develop a forklift hire plan tailored to your needs – whether you want to hire for an afternoon, or for three years.
Forklift maintenance
As a part of our comprehensive service, we also offer a complete forklift maintenance programme to keep your Stafford forklift operating smoothly. Whether it's arranging for regularly scheduled maintenance or dealing with an unexpected mechanical issue, our fully trained techs can help.
Delivery to your door
As a part of our comprehensive forklift sales and hire in Stafford service, we can also deliver your forklift directly to your premises. Wherever you're located in Stafford, we can arrange for affordable and convenient delivery on the back of one of our specialist transport vehicles.
Doosan specialist dealers
At West Mercia Fork Trucks, we're the UK's longest-serving Doosan dealer. Why? Simply because we feel they offer some of the best value for money forklifts without sacrificing quality. We also specialise in the ongoing maintenance and repair of Doosan forklifts, as well as many other brands.
Contact us today
If you need a Stafford forklift specialist you can rely on, contact West Mercia Fork Trucks today. Call, or use the contact form and a member of our team will call you back.